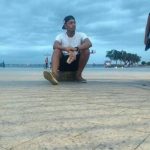 In 2014 I entered to Pedro II College in Niterói, where I attended high school. At Pedro II, I had the opportunity to participate in a robotics team and compete in several tournaments in Brazil. Thanks to this intense contact with programming, robot assembly and the world of technology, I was deeply interested in engineering, especially in computing
By the end of 2016, when I was researching which course should I choose, I found the Computer Engineering and Information at UFRJ. Despite the odds, I entered to UFRJ.
When I started the course, I realized that I had made the best decision for my life. I had the opportunity to get to know some study fields that I have always found very distant, such as Information Security.
More recently, I had the opportunity to meet the Informatics and Society Laboratory. In my house, I live with 3 for me and it was a very rewarding experience to be part of the team of IS Lab.
I hope that I could help this team to break down boundaries, so that the Lab could overflow its essence throughout UFRJ and the community involved.
Email: joaovitoraj@poli.ufrj.br